Why is Insuretech the safer bet? To start, the insurance and reinsurance industry is undergoing significant change. Driven by technology, insurers and policyholders will experience the revolution first-hand over the next several years. Now is the time to get on board and embrace the positive change coming to an old industry.
Workers' compensation insurance is one line of coverage that technology will impact most. However, workers' comp has long been overdue for a change. The best companies will improve efficiency and lower insurance costs by implementing technology to keep workers safe on the job.
Importantly, not all technology used in insurance was explicitly built for the industry.
For example, according to Mckinsey & Co., drones, satellites, and data sets will give insight into risks around facilities, allowing companies and their insurers to address safety issues before an accident happens.
Insurance technology, or insuretech, will alter the insurance landscape for the better. As these changes unfold, it's essential to understand how insuretech affects all insurance. And what technology will do for brokers and their clients who adopt it.
What is Insur(e)tech? (and how do you spell it?)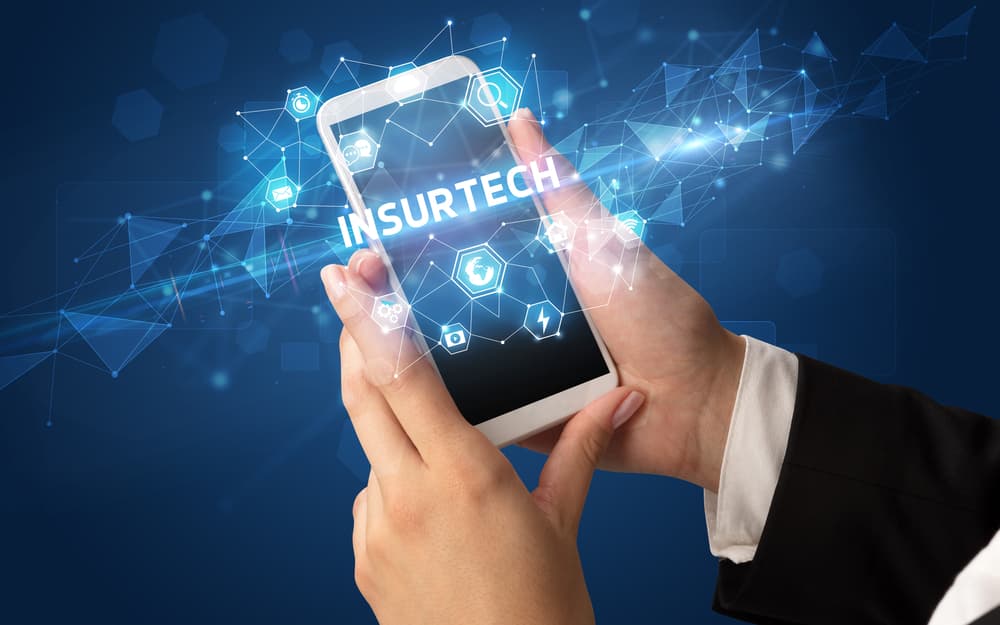 Insurtech is a leading contributor to the insurance technology revolution.
So what is insuretech?
Simply put, insuretech is insurance built on technology.
Insuretech is becoming more prevalent across multiple policy lines (like Lemonade in the property and casualty insurance industry). Insurtech companies believe technology can improve the insurance process, enhance the customer experience, and make it better for policyholders overall.
Additionally, insuretech changes how insurance companies approach the underwriting and claims process. For example, technology allows insurance carriers to customize policies easier.
Also, you may notice the word is spelled a couple of different ways. (We know, it's confusing). Some companies and publications spell it like "insuretech," while others drop the first "e" and spell it "insurtech." Either way, the term refers to the same game-changing, technology-led shift redefining the insurance solutions industry.
Insuretech vs. Fintech
Fintech was the original "tech" plus "industry" word combination, where the industry included the financial services, banking and investing categories. Just like insurance, the financial industry was in need of an overhaul and technology was there to save the day. Some of the great fintech accomplishments include online banking, better pricing and transparency in trading, and improved experiences in both the B2B and B2C work flows.
What is Insuretech Connect (ITC)?
When people spell Insuretech with an "e," it is sometimes referring to the Insurance Technology Convention held yearly in Las Vegas, in the fall, at the Mandalay Bay Hotel. The purpose of "Insuretech Connect" (ITC) is to update and inspire the insurance and reinsurance industry executive and carriers to use technology to better the lives of their customers.
Foresight and Insuretech
Foresight is an insuretech insurer and is a leader in the wave of insurtech startups we have seen over the past few years. The company has proven that using technology in insurance is a win for both investors and customers.
According to Foresight's Chief Insurance Officer, Emilio Figueroa, "Insurtech 2.0 is a better investment than legacy carriers due to their increasing valuation and look at market financial metrics. We care about loss ratio and profit margins, and have the agility to bring products to market 60-80% faster with more engagement and less friction."
Foresight + Safesite
Technology is the bedrock of Foresight's commercial insurance. In fact, Foresight wraps technology into every policy to make workplaces safer. Our workers comp program puts the power of our proprietary risk management tool in the hands of hard working employers so they can reduce and ultimately eliminate workplace accidents.
Moreover, by being safer, employers can reduce their insurance premiums with Foresight, adding more money to the bottom line. By using more than just an ex-mod, business owners can realize savings much faster than the industry average of three years.
That's the benefit of working with workers comp insurer that uses automation, data and technological innovation in their ecosystem. Customers can see the results of technology insurance carriers faster, and it helps keep employees safer and reduces insurance costs in their business.
How Technology is Changing the Insurance Industry
Every insurance sector is undergoing a technological change that is shifting the industry.
Data from Accenture says 80% of insurance executives stated their business and technology are becoming inseparable.
Technology will be the driving force behind insurance over the next several years.
Insurance has already become far more flexible than it was even ten years ago. Carriers and agents can adjust policies based on the needs of policyholders. You can expect this trend to be a standard way of doing business in the future.
According to McKinsey, technology like artificial intelligence (AI), drones, big data, and imaging will allow insurers to examine facilities and equipment to assess the likelihood of risk.
Next, technology insurance co workers' comp will take the guessing game out of safety. Data produced by risk management technology will show your clients which areas are at a heightened risk for an incident.
When clients can see which areas of their organization are most susceptible to incidents, they can make decisions to mitigate future issues. Now they can work on injury prevention strategies instead of relying on lagging indicators to determine what needs to change in their business.
Insuretech Insights listed behavioral analytics as one of their top three technology disruptors for insuretechs. Insuretech Insights stated data from behavioral analytics can help minimize risk, improve decision making, and reduce fraud.
Why You (and your clients) Need to Utilize Insurance Technology
Adopting new technology can feel like a risk to your business. Especially when your clients are involved. However, the greater risk is in falling behind.
Your clients and your business will be at a competitive disadvantage if you don't utilize innovative solutions. Whereas, implementing the solutions insuretechs deliver can save your clients money and help them do business more efficiently. Additionally, they'll make smarter decisions about their insurance coverage.
When you recommend technology that helps your client, it cements your status as a valued member of their team. You're more than a broker; you'll also be an advisor who takes your clients' organization to the next level. Consequently, working with a technology insurance co workers comp insurer like Foresight can transform how your clients approach safety.
Technology Insurance Partnerships
By partnering with an insuretech like Foresight, companies can have real-time insight into their business's safety metrics and strategies. Using our app, they'll have access in the palm of their hands to report incidents, near misses, and see which areas of their organization are most prone to accidents.
When you introduce an insuretech like Foresight into your client's business, you can play a vital role in keeping their employees safe and saving them money, which can add to the bottom line.
Find an Insuretech Partner for Your Client
From cybersecurity, to block-chain, technology is influencing all aspects of insurance and challenging the traditional business models the industry has long held standard. However, as a broker, insuretech can give you a competitive edge in the marketplace. Change can seem like a scary thing for your business. However, the future of insurance is based on technology.
Here's what we know:
It is a safer investment for companies to adapt and implement insuretech now.
As an agent, you can help your clients and you'll be a key figure in transforming their business with technology insurance co workers comp.
And here is what we know Foresight can do for you and your customers:
Foresight's safety technology has been shown to reduce incident frequency by 57%.
Because of our insurtech program, we take on hard to insure clients because we believe those industries are the ones who need our solution the most.
Conclusions
Foresight is helping lead the insuretech revolution.
We believe technology can play a significant role in saving lives in workplaces.
By incorporating safety technology into each policy, we know worksite accidents can be reduced and eliminated.
For Brokers/Agents:
You can get started with Foresight by getting appointed. Our technology solution is the best way to reduce incidents for your clients. And they'll have their own Safety Success Manager to guide them on strategies to make their workplace safer.
For Employers (Business Owners):
To get a free workers' comp quote, please visit this page.