Types of Insurance for Home Builders
In a high-hazard industry like construction, insurance for home builders is just as necessary as the tools used on a job site.
Builders are exposed to an enormous amount of risk.
Injuries can happen, equipment may be stolen, and disgruntled clients can file lawsuits.
As a result, having the proper protection in place can protect contractors from exposure to legal and financial liability. But with many different risks, there's a need for several types of insurance.
Insurance for home builders can be a complicated topic. There's no blanket insurance to cover every type of risk. So, we'll break down various coverages and how they protect contractors. And we'll discuss the types of insurance builders are required to carry.
Are Builders Required to Carry Insurance?
Like many insurance questions, there are multiple answers.
To start, coverage requirements vary by state, so you'll want to check local requirements, according to Nerdwallet.
However, one type of policy is required in nearly every state: workers compensation insurance for employers. (Note, Texas is the only state which does not require private employers to carry workers compensation insurance.)
Most clients will want to see insurance proof before a project begins, or may require proof of insurance.
Moreover, having coverage in place is good for your business. It's not about meeting the minimum legal requirements. Insurance protects your company.
So, while you may not need all types of insurance, it's essential to work with a broker who can determine your business's risk. Then, you can work on obtaining coverage to protect your company and employees.
General Liability Insurance for Home Builders
General liability insurance is one of the most common types of insurance for homebuilders. It protects your business from several forms of liability.
For example, general liability policies cover harm caused by an injury on the job site, a piece of equipment, or an activity related to your work.
General liability shouldn't be confused with workers compensation insurance for employers.
Instead, it covers injuries caused to individuals outside your company, like a bystander or a client. General liability can pay for the expenses if they're hurt by a piece of equipment or while on the job site.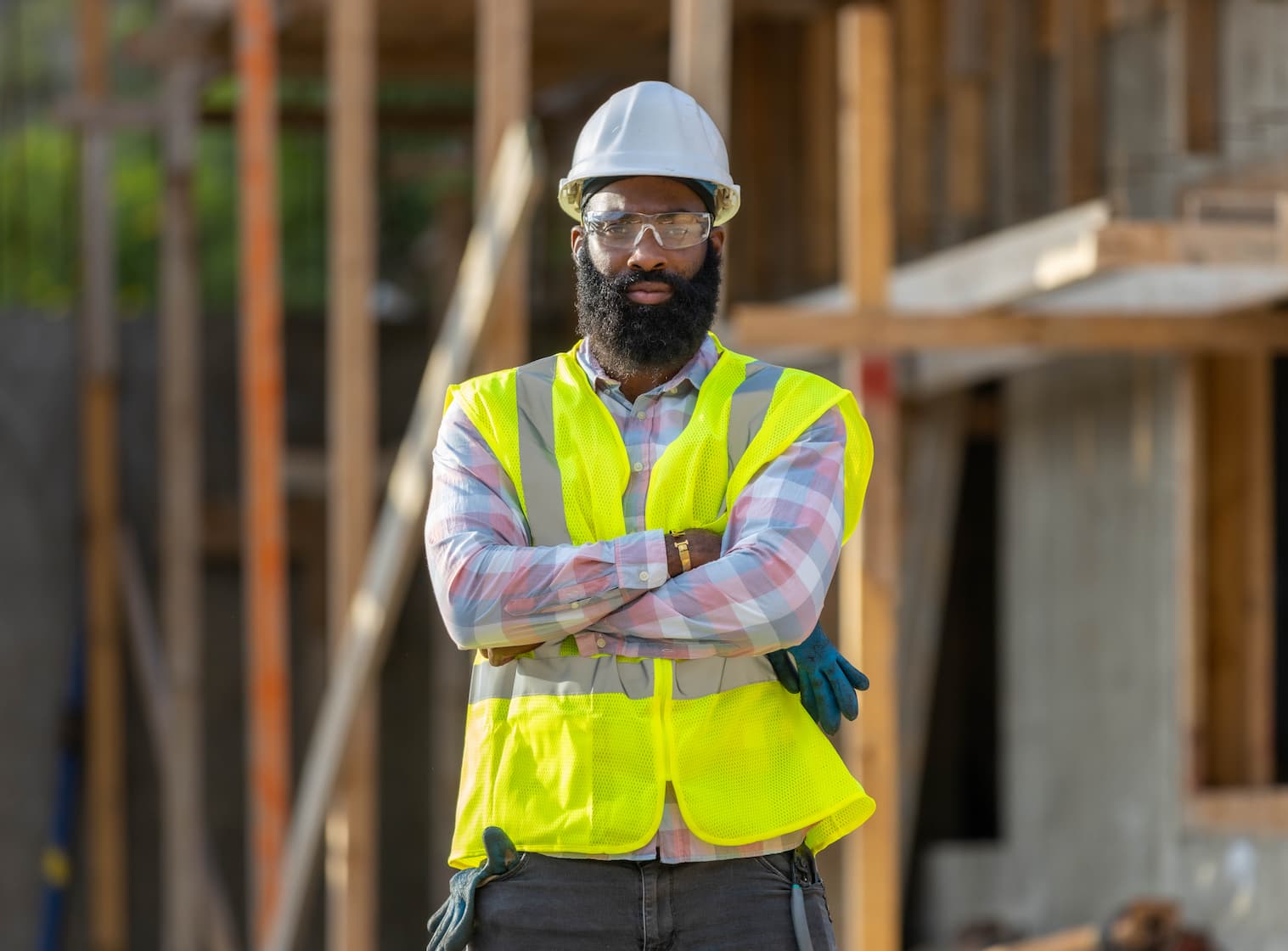 According to Nerdwallet, general liability also covers property damage. If you damage a client's property during construction, general liability insurance for homebuilders will protect your company by paying for damages.
In addition to injury coverage, general liability protects your company if you're sued for slander or false advertising. And if something you did on the job site fails or has issues after a project is completed, general liability coverage can kick in if you're found liable.
While general liability offers a broad range of protection, it's not the only insurance home builders will need.
Builder's Risk Insurance
External events can significantly impact a project during construction. This is where builder's risk insurance kicks in.
Also referred to as "course of construction insurance," builder's risk insurance insures your business while working on a project. If you experience a loss because of storms, fire, theft, or property damage, builder's insurance will cover you.
Depending on the policy, according to Forbes, builder's risk insurance may also cover lost sales or rental income due to construction delays.
Think of builder's insurance as your coverage for when things out of your control go wrong (like storm damage or stolen material).
So much of the construction industry relies on outside factors, like weather, to ensure projects are completed on time. Builder's risk insurance protects your company from those external risks so you can focus on doing the job.
Professional Liability Insurance for Home Builders
Not to be confused with general liability, professional liability insurance protects your construction company from damages related to the administrative side of your business.
Professional liability insurance can offer coverage for related expenses if you face legal action due to a breach of contract or failure to meet a deadline, according to Nerdwallet.
Inland Marine Insurance
Inland marine insurance may sound a bit strange for a home builder, but it's important coverage. If you're moving equipment for a job and supplies are stolen, inland marine can cover the costs of lost goods and expenses for recovery.
It helps you avoid paying out of pocket for expensive supplies and equipment that are often targeted.
Workers Compensation Insurance for Builders
One of the most important policies for home builders is workers compensation insurance.
Required by law in every state except Texas, workers compensation protects your employees (and business) if they're hurt on the job.
Workers compensation for employers is one of the most expensive policies because rates are determined by your company's risk history and the hazard level of work your employees perform.
Rates are tied to your Experience Modification Rate (Ex Mod), which correlates with the company's number of work-related injuries. If you experience more incidents, your Ex Mod will rise, resulting in higher premiums.
A high Ex Mod can impact your ability to win new business. Some contracts stipulate a minimum Ex Mod rating to bid.
Traditionally, workers comp insurance for employers rates is set for three years. At that point, a carrier can review your Ex Mod and loss reports to see if a rate change is possible.
Learn how Foresight can get you savings before your three year Ex Mod period.
That's why it's so important to prioritize safety in your business. By protecting your workers, you're also directly affecting your insurance costs.
The Complexities of Workers' Comp Insurance
Workers comp is a complex line of coverage. Each state has varying regulations. For example, some states allow employers to choose the medical provider who will examine employees injured on the job. Others have "no-fault" clauses to protect workers no matter how the accident happened.
Construction is a high-hazard industry. And many times, contractors may have difficulty obtaining workers comp insurance for employers.
At Foresight, we intentionally work with high-hazard industries, like contractors, to make their workplaces safer. We wrap safety technology in every policy.
You and your team will access safety training materials (with translated versions available) to help you be safer on the job site. And if you experience an incident or a near-miss, you can log it into the app and begin the claims process.
Using our technology and creating a safer work environment, you can experience premium savings faster than the traditional three years.
Coverage for a High Hazard Industry
Construction is a dangerous and expensive business. And while insurance for home builders costs can be high, having the right protection in place can will protect your business.
For coverage like workers comp insurance for employers, you'll want a partner who helps keep your employees safer and empowers you to lower your insurance costs. Reach out to your broker and ask them to get appointed with Foresight.
And if you're looking for a broker to help you find the right coverage, you can search right here. For brokers wanting to get appointed with Foresight, you can start the process here.
When you step onto a job site, you want to know you're protected. Foresight is here to help you eliminate injuries and keep your employees safe.