Roofing Insurance: Workers' Compensation
The roofing industry is one of the riskiest out there—and the high cost of roofing workers' comp insurance proves it. From working at extraordinary heights to traversing sharp slopes and angles, roofing is no walk in the park.
From an insurance company's standpoint, this risk is reflected in the high price tag that comes with a roofer's workers' compensation policy.
However, balancing safety and risk management can help you find the best roofing workers' comp insurance—whether you're an insurance agent looking to help your client, or a small business owner looking to save on expenses.
How much does roofing insurance cost?
How much does roofing insurance cost? The cost of workers' comp insurance coverage for a roofing company depends on a variety of factors. Where a company is located, what type of roofing work they perform, how many employees they have, and their insurance claims history can all have an impact on the price they pay.
While the cost of workers' compensation insurance for roofing businesses varies, Landes Blosch put together the following list in 2021. This list shows the average cost for workers' comp insurance in each state for every $100,000 in roofer payroll. (Note: Monopolistic states, including North Dakota, Ohio, Wyoming, and Washington, have been excluded from this list. These states require all businesses to purchase workers' comp coverage through their respective state fund.)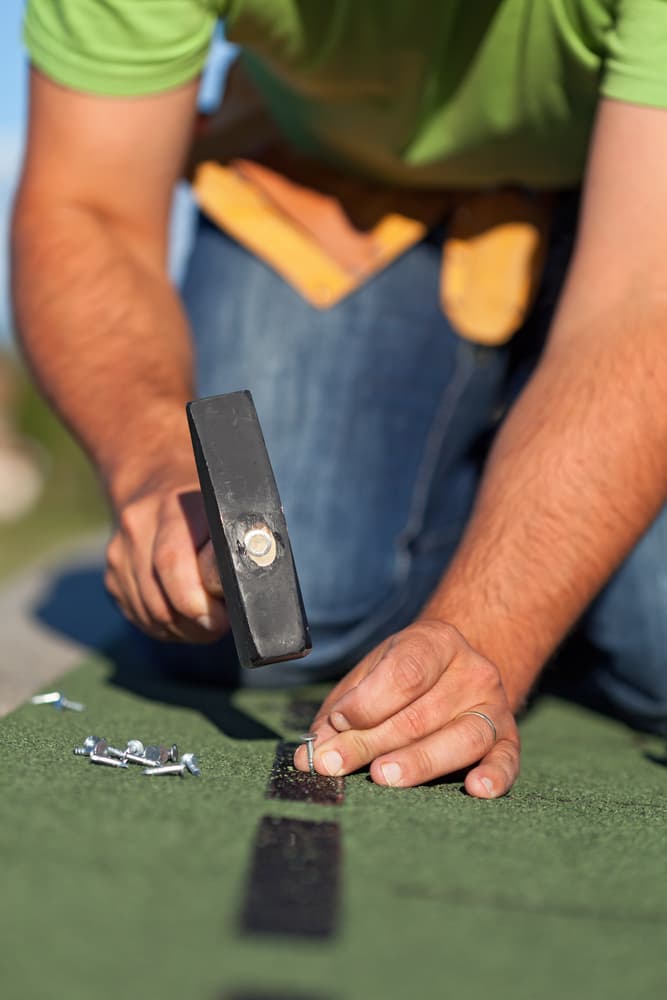 Alabama – $17,650
Alaska – $21,950
Arizona – $8,550
Arkansas – $10,800
California – $15,510
Colorado – $12,660
Connecticut – $24,190
DC – $9,870
Delaware – $26,890
Florida – $14,780
Georgia – $39,590
Hawaii – $17,880
Idaho – $17,870
Illinois – $23,330
Indiana – $5,890
Iowa – $16,530
Kansas – $11,930
Kentucky – $14,550
Louisiana – $23,170
Maine – $16,050
Maryland – $11,350
Massachusetts – $37,710
Michigan – $40,980
Minnesota – $28,980
Mississippi – $12,450
Missouri – $21,380
Montana – $34,460
Nebraska – $13,060
Nevada – $12,030
New Hampshire – $15,170
New Jersey – $29,460
New Mexico – $16,220
New York – $25,830
North Carolina – $14,130
Oklahoma – $15,980
Oregon – $11,630
Pennsylvania – $16,840
Rhode Island – $17,420
South Carolina – $25,370
South Dakota – $16,870
Tennessee – $12,770
Texas – $7,410
Utah – $11,640
Vermont – $22,590
Virginia – $17,900
West Virginia – $8,670
Wisconsin – $22,170
How can roofing companies save money on workers' compensation insurance?
Companies with a long history of expensive claims can expect to pay a great deal more for workers' comp coverage each year.
By implementing appropriate safety measures and utilizing a variety of risk management tools, roofing companies can help keep their workers' comp costs as low as possible.
The best way for roofing companies to avoid a large premium price tag is by creating a working environment that prioritizes safety. Risk management tools like a written safety plan and ongoing employee training can not only keep your employees safe on the job, but help keep your future costs low as well.
Proactive Safety Efforts Can Keep Roofing Premiums From Going Up
This is one of the reasons Foresight wraps proprietary risk management technology into every policy.
Our exclusive partnership with the comprehensive risk management platform, Safesite, helps business owners improve their safety engagement and reduce their incident frequency. Proven to reduce incidents by up to 57%, Safesite is a powerful, easy-to-use safety management solution used by over 18,000 companies of all sizes and industries.
Safesite's intuitive platform helps companies get results and demonstrate safety performance. Access the platform on any device and run your safety program digitally, saving hours each week and cutting safety-related expenses by as much as 20% annually. Learn more at safesitehq.com and follow Safesite on LinkedIn.
Can a Roofing Company get Workers' Comp from a Liability Policy?
No, roofing companies cannot expect their liability coverage to cover workers' comp. General liability insurance policies cover property damage to other peoples' property and medical expenses to injured customers – not to injured workers or employees of the company. General commercial property insurance will not contain workers' comp either. It needs to be a stand alone policy.
What workers' compensation insurance options are available for roofing companies?
Due to the high-risk nature of roofing work, many mainstream insurance carriers⁠—often referred to as "standard markets" or "private carriers"⁠—do not offer workers' compensation coverage for roofing companies. As a result, many roofing companies end up securing their workers' comp coverage through their state fund.
State fund policies are usually more expensive than those offered by standard market carriers, offer less comprehensive coverage, and depending on your state the customer service can be less than desirable.
Nevertheless, it is entirely possible for roofing companies to secure competitively-priced, comprehensive coverage from standard market insurers. The key is knowing where to look. Foresight, for example, specializes in hard-to-place industries like roofing, and can offer you a free quote.
Foresight is the first insurtech specializing in workers' compensation for the hard-to-place middle market. Our mission is to improve every business we underwrite, starting with workplace safety. Foresight wraps innovative risk management technology into every workers' compensation policy, reducing workplace incident frequency by an average of 31% and giving policyholders the ability to earn lower premiums.
How do roofing companies work with insurance companies?
While insurance companies and their underwriters provide insurance quotes and workers' comp coverage to roofers, this is not the only way that these two entities interact. It's important to know that roofing companies are often times involved in the roofing insurance claims process as well. Roofing claims can involve medical bills and other medical expenses, and indemnity claims.
According to AccuLynx, you can break down the insurance claims process for roofing into three steps:
Step 1: Inspection by the Adjuster
Once a property owner reports the roof damage to their insurance company, the insurance company sends an adjuster to the site. The insurance adjuster will inspect the roof and closely evaluate the damaged areas. If the property owner had a roofing contractor complete the initial inspection, it is important that the roofer be present for the inspection by the adjuster, to help answer questions and ensure no areas of damage are overlooked.
Step 2: Review of the Claim
After the adjuster has completed their inspection, the damage report will be sent back to the insurance company for review. This part of the process can be especially lengthy, as the insurance company works to determine the extent of the damages, what is covered by their policy, and how much to pay out. During this phase, property owners often rely on their roofing contractor to help provide the insurance company with any additional information they may request.
Step 3: Finalizing of the Claim
Once the claim has been thoroughly reviewed, the insurance company will finalize the payout amount and send a check directly to the property owner. Depending on the property owners' policy, this check will either cover the cost of repairing the roof or replacing the roof altogether. At this point, the property owner and roofing contractor will work together to decide what work will be completed, and to draw up an appropriate contract.
Conclusions on Finding Roofing Workers' Comp Insurance
In general, it is difficult to find a good deal on contractors insurance or workers' comp for a general contractor. It is even more difficult to find a good workers' comp policy for a roofing company. The best coverage will come from a company that prioritizes proactive safety along with competitive rates.
Get Started Today with Foresight
Looking for a competitive workers' compensation quote for a roofing business? Whether you're an insurance agent or a business owner, Foresight is here to help! Foresight insures safety-critical businesses with a technology-first workers' compensation program. With fast pricing indications, online submissions, and in-app reporting, Foresight provides unrivaled value for brokers and businesses seeking safety and savings through technology.
Insurance agent?
Get appointed and submit a client for a competitive quote today.
Business owner?
Ask your agent about Foresight, or find a broker near you for a free quote.