Workers' Compensation Insurance Guide
Nevada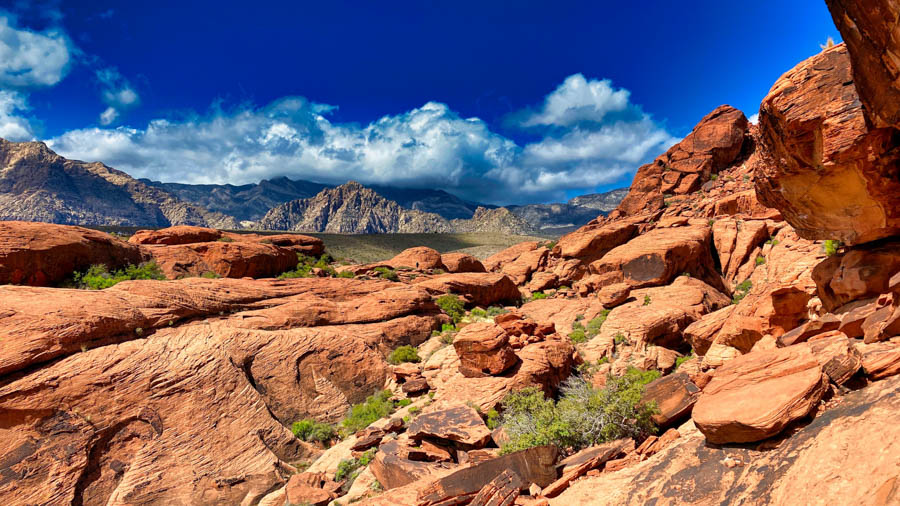 An Introduction to Worker's Comp in NV
Nevada is one of the fastest growing states in the U.S., second only to Hawaii in terms of GDP growth from Q4 2020 to Q4 2021. Some of the growth industries in the state—manufacturing, construction, and mining—involve high-hazard occupations that can make workers' compensation insurance expensive for employers and hard-to-place for brokers.
Keeping Nevada's economy growing demands a robust workers' comp system where employers are able to find reasonably priced coverage and employees are kept safe, healthy, and productive.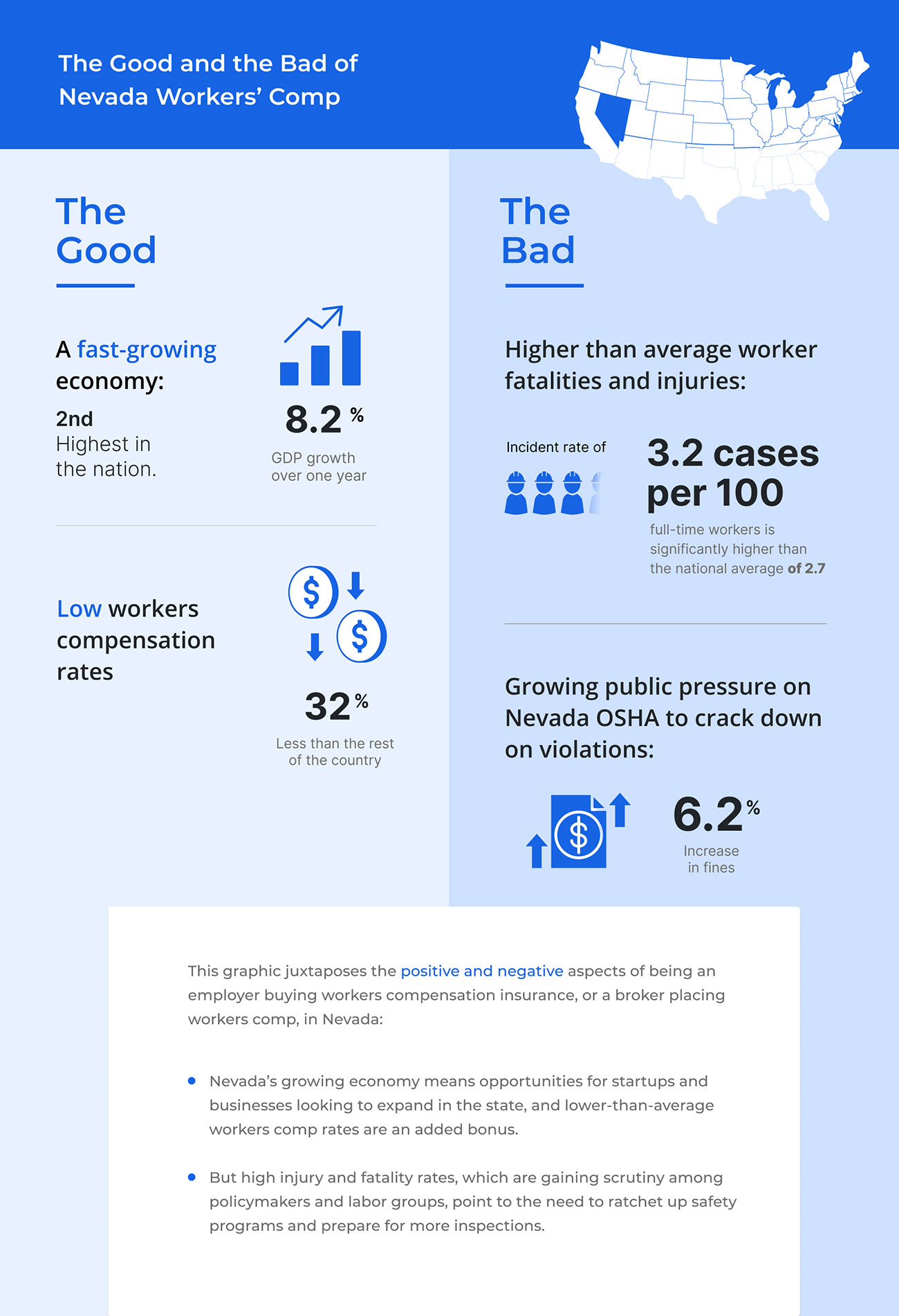 Who needs workers' compensation coverage in Nevada?
Any employer in Nevada with one or more employees is required to provide workers' compensation insurance benefits to employees. However, there are some exclusions, including:
Employment related to certain interstate commerce entities not subject to the legislative power of the state of Nevada.
Employers who provide disability and death benefit plans to employees with compensation payments equal to or greater than those provided in

 

statute NRS 616

 

and which have been in effect for one year prior to July 1, 1947.
Employee working temporarily in Nevada who are insured in another state if out-of-state coverage provisions are in effect with the other state.
For construction trades only: Casual employment (employment lasting not more than 20 days and having a total labor cost of less than $500) is exempt if employment is not in the course of trade, business, profession, or occupation of the employer.
Household/domestic workers and agricultural or horticultural labor.
Minors, undocumented immigrants, elected and appointed paid public offers, members of boards of directors and musicians playing music for hire are all considered "employees" under Nevada workers' compensation laws.
Unlike some states, Nevada does not exclude sole proprietors, independent contractors, subcontractors, and their employees from workers' compensation requirements. They are deemed employees unless they are an "independent enterprise."
How workers' compensation works in Nevada
Workers' compensation in Nevada is managed under the Nevada Department of Industrial Relations (DIR). The DIR website contains detailed information on the statutory requirements, some of which are highlighted here.
Workers' compensation benefits in Nevada
Employers in Nevada must report all workplace accidents involving an employee fatality within eight hours after learning of the accident. Inpatient hospitalizations of one or more employees, amputations of a part of an employee's body or loss of an eye must be reported within 24 hours of learning of the incident.
Workers covered by workers' compensation in Nevada must use, in most cases, an approved physician. Insurers can use a managed care organization (MCO), preferred provider organization (PPO), health maintenance organization (HMO) or the insurance company's internal managed care unit.
Workers in Nevada receive the following types of workers' comp benefits:
Temporary Total Disability (TTD): Provides 66.66% of the injured worker's wage bi-weekly when the worker is unable to work per a doctor's certification.
Temporary Partial Disability (TPD): Supplements an injured worker's wage who is back to work but earning less than pre-injury wages at 66.66% of the difference between what the injured worker earned at the time of injury and his or her current earnings.
Permanent Partial Disability (PPD): Money an injured worker receives, usually in a lump sum settlement, to compensate for permanent impairment as the result of a work-related injury, based on the percentage of disability, the injured worker's age, and his or her wage.
Vocational Rehabilitation Maintenance: Provides an injured worker the same benefit amount as temporary partial disability while he or she receives training for a different occupation.
Vocational Rehabilitation Training:  Training to help an eligible worker learn another occupation consistent with his or her physical limitations and educational level.
Permanent Total Disability (PTD): Money paid to an injured worker when he or she is no longer able to work at all due to the work-related injury; usually paid for the remainder of their life.
Lifetime Re-Opening: Nevada allows injured workers to reopen their workers' compensation claim at any point, for life if he or she can prove that the injury or condition has worsened.
Penalties for noncompliance
According to the Nevada Department of Business and Industry, employers in Nevada with one or more employees, with the few exceptions mentioned above, must carry workers' compensation insurance. Businesses that fail to comply face fines up to $15,000, and the business could be ordered to close until insurance has been obtained.
Following the uninsured incident, the business is financially responsible for the costs associated with the employee's work-related injury. The employer could also face civil litigation brought by the injured employee.
Where employers can buy workers' compensation insurance in Nevada
Employers in Nevada can purchase workers' compensation insurance from a private insurer, or they can self-insure if the employer or association is certified by the Nevada Division of Insurance.
Nevada has no state-run workers' compensation fund. Businesses unable to find coverage in the voluntary market access coverage through the assigned risk plan which, in Nevada, is administered by the National Council on Compensation Insurance (NCCI). Applicants must have at least two refusals from the standard market to qualify for the assigned risk plan.
How workers' compensation premium is calculated in Nevada
Workers' compensation insurance premiums in Nevada are calculated using the NCCI loss costs, the loss-cost multiplier, the insurer's scheduled rating and other factors. Nevada's workers' compensation rates are some of the lowest in the country: A 2020 study showed Nevada was the 6th least expensive NCCI state and that employers pay an average of 32% less than the rest of the country.
Nevada is unique in that it caps payroll at $36,000 regardless of job classification or position. Sometimes out-of-state brokers and agents are unaware of this fact and end up over-charging insureds.
Nevada OSHA
Nevada incorporates most federal OSHA standards and has adopted some unique standards enforced by Nevada OSHA, including:
General Industry:
Safety Programs
Cranes
Asbestos
Explosives
Ammonium Perchlorate
Photovoltaic System Installation
Sanitation
Hazard Communication
Construction:
Cranes
Steel Erection
Asbestos
Nevada OSHA recently adopted Federal OSHA's heat illness and injury National Emphasis Program (NEP) in a modified form "to reflect local factors." Nevada OSHA reports it will proactively initiate inspections in over 70 high-risk industries, including both indoor and outdoor settings when the National Weather Service has issued a heat warning or advisory for a local area.
In January of 2022, Nevada OSHA raised penalties for employer violations by 6.2%, but labor activists argue higher fines won't deter violations without robust enforcement.
Why Workers' Compensation is "Difficult" in Nevada
Even with lower-than-average rates, workers' compensation can still be costly to buy and difficult for brokers to place in Nevada because of the industries that drive the state's economy—construction, manufacturing, hospitality—and the nature of the work that goes along with them.
Other lines of business drive some carriers out of the state
Even though for the most part workers' compensation remains profitable for insurance companies, some carriers have become more restrictive with their appetites in the southern part of the state around Las Vegas. In addition, challenges in the general liability line of business have driven some carriers from the state.
Poor loss experience 
According to the U.S. Bureau of Labor Statistics (BLS), worker fatalities and injuries in Nevada continually outpace the national average. With an incident rate of 3.2 cases per 100 full-time equivalent workers, Nevada is among 20 states that have an incident rate of recordable cases significantly greater than the national rate of 2.7.
Small-to-midsized construction and manufacturing businesses have among the highest incident rates. One way to contain costs is through a better-than-average experience modifier. On the flip side, some carriers will avoid high-mod clients or charge higher premiums.
Employers in the state are eligible for an experience modifier once they meet one of these triggers: (1) $6,000 in policy premium generated during the last year or two years, (2) $3,000 average policy premium generated for more than two years.
More public pressure for stricter OSHA enforcement
Nevada OSHA recently raised penalties for employer violations by 6.2%, but labor activists argue that the higher fines alone are not deterring violations and that more robust enforcement is needed. Such public pressure could increase the number of inspections, particularly in high-hazard industries.
Tips for lower cost, quality workers' compensation in Nevada
Because Nevada's economy is growing so rapidly, more start-ups are forming, and more businesses are moving into the state. This drives demand for workers' compensation and, in turn, presents growth opportunities for insurance brokers and agents. Here are some tips for finding low cost, high quality workers' compensation in Nevada.
Avoid the assigned risk plan whenever possible
The Nevada businesses that end up in the assigned risk or State Fund plan are usually there because their broker believed they could not obtain coverage from a private insurer, either due to their loss history (or lack thereof if it's a new business) or because they're in a high-hazard class of business. Always be sure to explore all options, starting with insurance carriers who specialize in hard-to-place industries in Nevada.
Use safety-driven pricing for cheaper workers' comp premiums
The Ex Mod is where the opportunity to reduce workers' comp premiums becomes possible. Foresight uses technology to help you track and analyze loss data to improve your safety program, reduce employee workplace injuries, and, ultimately, qualify for or improve your Ex Mod.
Use technology to manage safety compliance and prevent injuries
Safety technology makes managing workers' compensation in Nevada faster, easier, and more accurate—especially when its available on a mobile device and easy for employees to engage with. When technology can track incidents and near misses, capture safety meetings and inspection checklists, and experts can help interpret the data and customize risk management, businesses can minimize the costs associated with claims, lost productivity, OSHA violations, and higher Ex Mods.
Respond to claims quickly
Keeping comp claim costs down in Nevada requires immediate reporting and a fast, compassionate response to the injured worker to provide the best medical treatment. A digital first notice of injury helps with OSHA compliance, and fast medical care.
Moreover, integrated telemedicine services by professional medical providers promote a faster recovery for the injured person and better communication throughout the healthcare process, ultimately leading to a faster, less costly resolution. A good claims experience can also keep the costs of disability benefits and temporary partial disability benefits lower.
Foresight can help lower Nevada workers' compensation claims by 17% with an insurtech approach to both comp benefits and claims handing. Learn more from your broker.
Foresight Workers' Comp gives employers a proactive approach to stopping workplace injuries from happening, and then closing out your claim faster when needed.