Keeping the trees, shrubs, lawns, and flowerbeds surrounding our homes and public spaces lush and healthy is hard work that's almost always in high demand. The COVID-19 pandemic only raised our collective appreciation for outdoor spaces and resulted in increased demand for arborists and landscapers.
While the residential sector of the industry fared better during the pandemic than the commercial side, the industry as a whole is growing. The National Association of Landscape Professionals is working to add 100,000 new jobs to the industry by 2025. Labor shortages fell second on a recent industry survey of business owners' chief concerns, topped only by higher fuel costs. Concerns about high workers compensation costs came in third.
When you consider the labor-related challenges of running landscaping and tree service businesses, it's easy to see why concerns about workers compensation are so high on the list:
Worker shortages are an ongoing problem in this industry, and landscapers are the largest users of the H-2B visa program for seasonal foreign workers.
High turnover and an aging workforce lead to a continual influx of inexperienced workers, who are more likely to be injured on the job.
Landscaping and tree services are among the most dangerous occupations in the U.S., with higher-than-average rates of both fatal and non-fatal injuries.
In This Report: Tree Service & Landscaping Trends
This report is based on industry trends and our own discussions with Foresight leadership and broker partners concerning:
Landscaping, including landscape and hardscape installation, lawn care, lawn irrigation installation and maintenance, mulching, garden bed preparation and maintenance and shrub pruning.
Arborists — sometimes called "tree surgeons" — which are specially trained in pruning, trimming, and removing trees.
Keeping an open dialogue with our brokers and customers on worker safety and workers compensation trends, issues, and challenges helps us band together to mitigate the potentially deadly or life-altering risks inherent in arborist and landscaping work. We created this guide as a succinct reference tool to help you stay on top of critical trends such as:
Workforce Trends
Regulatory Trends
Loss Drivers & Safety Practices
Safety Technology
2022 Outlook
Tree Service & Landscaping Workforce Trends
Statistics Snapshot
The industry relies heavily on the H-2B visa program: Landscaping is the largest industry for H-2B visa holders, making up 40% of all H-2B jobs, but continual policy changes keep employers guessing on how many workers they'll be able to hire each year.
Demographics and language barriers: A 2021 study by the National Association of Landscape Professionals Foundation found that more than half of the industry is comprised of Hispanic workers, and nearly all are men.
Inexperienced workers are replacing aging workers and getting injured more: One CDC study showed that 50% of serious injuries were experienced by workers 34 years of age and younger, though the median age for landscaping services workers is 38.1.
Worker Shortages, Inexperienced Workers, and the Challenges of Safety Management
Landscaping and tree service employers have been grappling with rapid turnover and labor shortages for several years. Some industry associations, such as the National Association of Landscape Professionals have made inroads with apprenticeship and certification programs. Larger firms are attempting to solve the shortage with technology, but technology can't replace all their human labor tasks. The shortage is especially serious for utility arborists, mainly in coastal areas where they're needed most.
Meanwhile, both landscapers and tree service businesses rely heavily on immigrant workers, partly because of the seasonal nature of the work in large segments of the country. Many have turned to the H-2B visa program to close the gap on their labor needs, but they still have difficulty finding enough younger workers qualified to do the work. Employing inexperienced workers has had a negative effect on the workers compensation losses of many businesses in the industry.
Worker shortages create increased reliance on H-2B visa program
Landscapers and tree service companies rely on the H-2B visa program, which was created to help them through seasonal worker shortages when "there are not enough U.S. workers who are able, willing, qualified, and available," according to the U.S. Citizenship and Immigration Services.
The program facilitates the entry of nonimmigrant workers in industry sectors experiencing worker shortages. H-2B is specifically for nonagricultural workers and is capped at 66,000 per year. Although the program has offered some relief for employers experiencing worker shortages, bringing foreign temporary workers on an H-2B visa can be a lengthy and cumbersome process.
Landscapers are currently the largest users of the program (see chart below).
Top 10 Occupations for Requested H-2B Labor Certifications (FY2020)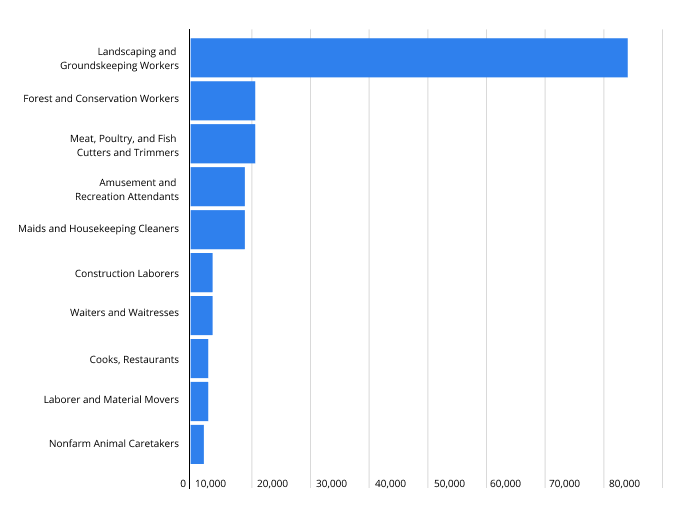 In terms of the overall demographics of the landscaping workforce, a 2021 study by the National Association of Landscape Professionals surveyed 272 landscape companies and found that 49% of landscaping employees were between 25-44; 61% were of Hispanic, Latino, or Spanish origin; 92% were male. Of those surveyed, 14% said they employ H-2B visa employees and that they comprise 24% of their workforce.
Younger and less-experienced workers increasing injury rates
Like many industries, landscaping and tree service businesses are dealing with an aging workforce being replaced by inexperienced workers. And like other industries requiring physical labor and hazardous equipment, injuries go up with less-experienced workers. One CDC study showed that 50% of serious injuries were experienced by workers 34 years of age and younger, though the median age for landscaping services workers is 38.1. This trend is especially prevalent in smaller companies, emphasizing the need for better safety training when onboarding new employees as well as continual guidance on safety behaviors.
Many landscaping businesses hire teenage workers to address worker shortages during the busy summer season. According to the National Association of Landscape Professionals, June, July, and August are when most landscapers see the most safety incidents occur, which could be partly due to the influx of teen workers.
Regulatory Trends Affecting Arborists and Landscapers
Statistics Snapshot
In December 2021 the Department of Homeland Security made an additional 20,000 H-2B visas available for fiscal year 2022 for U.S. employers seeking to employ additional workers on or before March 31, 2022.
Employers need to stay aware of changing regulations from OSHA and EPA regarding pesticides and herbicides.
H-2B visa program in a constant state of flux
Landscaping and tree service employers using the H-2B visa program to hire workers face not only the headaches of a cumbersome and costly system, they have the annual challenge of not knowing how the legislation will change. For example, the program is designed to be capped at 66,000 visas per year, but for the past several years, lawmakers have expanded the H-2B caps.
The program remains controversial, with some saying it reduces illegal immigration and others saying it increases it. The question of whether there are actually no American workers willing to fill the jobs is another point of contention along with issues surrounding fair payment and treatment of immigrant workers. Immigration reform, which will affect this program, seems inevitable.
Climate change policy and how it affects arborists and landscapers
Many landscaping businesses are already making the shift to sustainable practices, particularly when it comes to pesticides and herbicides. As these chemicals come under more scrutiny and lawmakers consider reforms that affect lawn care and turf maintenance processes, businesses lagging behind in sustainability may see disruptions in business as they adapt to natural treatments. Industry groups are working to become part of the solution when it comes to climate change and sustainability.
Key Loss Drivers and Safety Trends
Statistics Snapshot
Leading causes of fatalities
Landscaping and tree services are among the most dangerous occupations in the U.S., with higher-than-average rates of both fatal and non-fatal injuries. Although fatalities have been dropping overall (see BLS chart below), sometimes a sudden spike catches OSHA's attention.
For example, when OSHA's Boston office noticed a sudden increase in severe injuries and deaths, they launched a regional emphasis program to study the losses and work with businesses on prevention. The study will run through 2026. So far, the study has found that poor practices have led to accidents, including workers falling from trees and lifts, being struck by trees, lacerated by saws, and electrocuted by live wires.
Fatal occupational injuries by event or exposure, landscaping and groundskeeping workers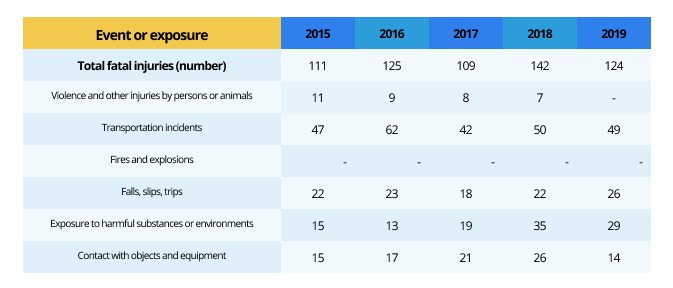 Leading causes of days away from work
The most recent in-depth study looking at hazards in tree trimming and landscaping was conducted by the National Institute of Occupational Safety and Health (NIOSH)'s Center for Workers Compensation Studies. The study analyzed 18,037 claims from the Ohio Bureau of Workers' Compensation for the time period between 2001-2017.
Some of the most serious injuries that can come from tree servicing are things you wouldn't expect, [such as] palm frond trimming.
The research found that although the number of injuries in the landscaping industry have fallen since 2001, the percentage of serious injuries increased from 16% to 21% in the study time period. The most common causes of injury were overexertion and being struck by an object such as a falling tree limb or by a piece of equipment such as a lawnmower blade. Sprains and fractures were the most frequent serious injuries.
"Some of the most serious injuries that can come from tree servicing are things you wouldn't expect," noted Kurt van Hartogh, Business Development and Risk Control Manager at Safesite. "For example, palm frond trimming can be extremely dangerous and even deadly if workers haven't been properly trained."

Heat stress, truck loading getting attention from OSHA
Like other outdoor occupations, heat injury and illness prevention is a serious exposure for landscapers and arborists and one that's getting a lot of attention from OSHA. In October of 2021, OSHA began a rulemaking process to consider a heat-specific workplace standard. Once issued, the standard would spell out employer obligations and measures necessary to protect employees from hazardous heat. Some states, such as California, already have a similar standard in place.
Another issue being considered came as a result of the NIOSH study mentioned above involving the loading and unloading of equipment. When studying the data, researchers found that the loading and unloading of materials, tools, and equipment into and out of trucks and trailers was a common cause of serious injuries. Some examples of these types of incidents include pinching or smashing fingers in tailgates, injuries to hands or feet while hooking or unhooking trailers, falls from trucks or trailers, and tailgates falling on feet and legs.
Characteristics of an effective landscaping and tree service safety program
When it comes to tree work, OSHA recommends that employers incorporate the following safety practices into their injury prevention programs:
Training on identifying danger zones during tree work by inspecting the worksite to identify hazards such as unstable trees, steep slopes, overhead power lines, holes, and obstructions
Preventative maintenance on all tools and equipment and ensuring interlock switches, shields and guards are in place
Electrocution: Comply with 10-foot power line clearance rule
Chainsaw training
Proper PPE: hard hats, safety goggles, ear protection, chaps
Proper use of restraints and tethering tools
"We tend to see more injury frequency with landscapers and more severity with tree services," said van Hartogh. "Many tree trimming and maintenance injuries could be avoided with some pre-climb planning and proper use of equipment and restraints and paying attention to drop zones."
As mentioned above, transportation injuries are among the most serious in the landscaping business. Some recommendations OSHA makes specific to transportation include:
Driving safety
Engineering controls including safety features for tailgates, liftgates, trailers, and ramps
Lifting assist, remote controls, and other features allowing easier access
Non-slip surfaces
Other key areas for landscapers include:
Cuts and amputation prevention
Electrical work
Heat and cold stress
Lifting and awkward postures
Slip, trip, and fall prevention
Leading Safety Technology Trends for Arborists & Landscapers
Like many industries, worker shortages in tree service and landscaping are a driving force behind adoption of new technologies to do the work of humans. Tree trimming and removal is a specialized skill that usually requires an apprenticeship and careful training to learn. The skilled labor shortage is forcing some tree removal businesses to use trucks outfitted with remote control technology, which allows them to do the job with about half the number of employees.
Many tree trimming and maintenance injuries could be avoided with some pre-climb planning and proper use of equipment and restraints and paying attention to drop zones.
Landscapers are following a similar tactic by using technology that helps them employ fewer workers and manage them remotely through crew tracking apps. Some are using autonomous mowers, drones, and online estimating tools, but such technology is cost prohibitive for smaller outfits.
With more tree service and landscapers embracing technology and hiring younger workers, they're primed for using technology to improve worker safety training, incident data gathering and analysis, and compliance recordkeeping.
2022 Outlook for Arborists & Landscapers
Landscapers and tree service businesses provide a vital function maintaining the private and public land we live in, as was proven by workers being deemed essential during the COVID-19 pandemic. Industry experts see a positive future ahead, but one still faced with challenges—continued labor shortages and H-2B visa issues, pressure for more eco-friendly practices, and pesticide regulations. Workers compensation worries will continue to plague the industry without new approaches to safety management and cost control.
Technology exists today that could help landscaping and tree service employers address the workforce, regulatory, and loss trends discussed in this guide:
Inexperienced workers engaging with digital behavior-based safety tools and training available on handheld devices and in their native language learn safe behaviors faster and more effectively, reducing accidents.
Digitized OSHA recordkeeping, incident reporting, inspections, and audits help keep employers compliant and aware of changing regulations.
Data gathered and analyzed from wearables, digitized incident reports, and employee observations quickly identifies safety problems so they can be addressed immediately.
Helping tree service and landscaping businesses keep workers safe and healthy in a way that doesn't add to their escalating labor costs can have immediate and lasting results.